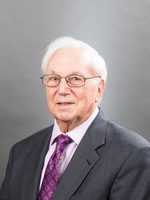 About Roger Levine
Roger Levine has been a principal in the East Brunswick law firm of Levine & Furman since 1982. The firm specializes in estate tax planning including the most current and sophisticated estate planning techniques, with an emphasis on family wealth transfers and complex income tax matters. In addition to helping clients avoid probate, protect their assets, and provide for the security of their loved ones with a well-crafted estate plan, Mr. Levine is a lecturer at Seton Hall School of Law. He also regularly presents educational seminars to the public on various estate planning topics and has appeared on television and radio, discussing both basic and advanced estate planning techniques.
Experience
Before founding Levine & Furman, Mr. Levine was the senior tax partner of a larger northern New Jersey law firm. His experience also includes several years in the New York city tax planning department of a Big Six accounting firm, and one year was spent in the firm's Washington, D.C., National Office. Mr. Levine, a certified public accountant as well as an attorney, is a member of the New York, New Jersey and American Bar Associations, and the American Academy of Estate Planning Attorneys. He has served as chairman of both state and local bar association committees, is currently a member of the Tax and Estate Law Committees where he has participated in drafting recent New Jersey tax legislation. Mr. Levine is admitted to practice before state and federal courts in New York and New Jersey as well as the U.S. Tax Courts and the U.S. Supreme Court.
Education
Mr. Levine did his undergraduate study in Accounting at City University of New York, graduating with a bachelor's degree in Business Administration. He earned his Juris Doctor degree from St. John's University School of Law, and his Master of Law in Taxation from New York University School of Law.
Personal
Mr. Levine is married and the father of two children. He enjoys reading, traveling, basketball, golf and other sports as both a participant and a spectator.

BACK TO ATTORNEY AND STAFF INDEX